08-04-2022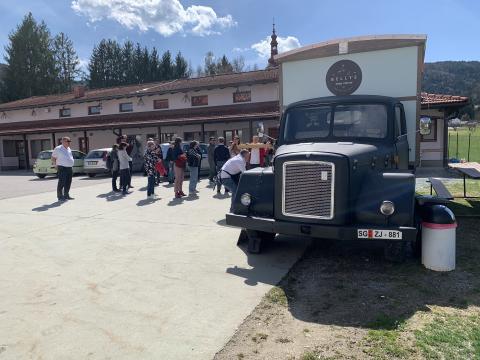 The seventh meeting of the RedEra+ project, a European project coordinated by the Vice-Ministry of Employment, Social Dialogue and Labour Welfare with the support of the Regional Ministry of Education, Culture and Sports took place in Maribor and Lovrenc na Pohorju (Slovenia) on 6, 7 and 8 April 2022. It is the third exchange of good practices of the project that could be carried out in person due to the state of the pandemic.
The conference began on the 6th with a presentation by the heads of the Regional Development Agency of the Podravje region in Maribor of their main projects and initiatives aimed at this region of North-Eastern Slovenia. The Agency is a platform for seeking national and European funding for this region, the main city of which is Maribor, and the municipalities of the region collaborate with the Agency. This was followed by a visit to the University of Maribor, specifically to the Faculty of Agriculture, where the main lines of research of its various departments were presented, aimed at sustainability and the introduction of innovative technologies for application in a region in which the forestry and wine sectors are of great importance.
Day 7 was dedicated to getting to know the reality of Lovrenc na Pohorju, the municipality of about 3,000 inhabitants, where the Osnova Šola Lovrenc na Pohorju primary school is located, which through its management participates as a partner in the project. First of all, the Mayor and his team presented their priorities and the main lines of action of the municipality. This was followed by a visit to the school where 234 local pupils receive their education and which employs 66 staff.
We were then shown 5 examples of local entrepreneurs who have started their business ventures in the municipality in recent years.
- Saint Lorenz is the bakery of Špela Španbauer. It produces sweets and breads that supply Nelly's business, among others.
- Koča Dobnik is Staša Pernat's renovated farmhouse in a magnificent mountain setting. She manages to keep it occupied for more than a third of the year.
- Salvia is the brand of natural cosmetics handmade by Goran Poglajen and his wife. They have managed to market them in the Lidl supermarket.
- Nelly's food truck is a fast food business set up by Nelly and her husband in a refurbished and adapted truck.
- Tatjana Bezjak, produces handmade pasta and sells it locally.
They have in common the use of local raw materials, the artisanal way of production and the added value they bring to revitalise this rural area of Slovenia. In addition, 4 of the 5 examples of entrepreneurship have women as main actors.
Finally, the morning of the 8th was used for the joint analysis of the good practices presented and for the discussion among all the partners on the next steps to be taken in the project before its completion in August.
Links related:
https://www.youtube.com/watch?v=C7As86e-BIE
https://www.facebook.com/saintlorenzbyspelaspanbauer/
https://www.facebook.com/ZeliscaSalvia/